OpenFortress Token Services
OpenFortress Token Services makes it simpler to maintain a cryptographic hardware key. It implements a lost&found service for tokens and it can help to unlock a token that locked out its owner for security reasons.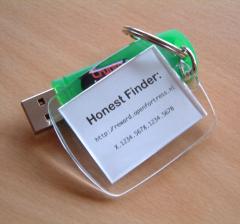 When we program a token for a particular application, we add a bit of information describing the rightful owner. This information is tamper-protected, and only readable for OpenFortress to avoid abuse. This information can be useful to recover the token in case of problems.
OpenFortress Token Services are usually available only to customers with an address in the EU.
Token Return Service
This is a lost&found service for tokens. Instead of attaching your own address to the token, which would be helpful to attackers, you receive a label that describes our general service. We use the token-stored ownership information to send back the token.

Read more

Order now
Lockpicking Service
Tokens are protected with a password or PIN. If you enter too many wrong passwords in a sequence, the token will lock out any further attempts. This is a security precaution; it makes it fairly safe to keep token passwords small.
The rightful owner may ask OpenFortress for an unlock code. This code can be entered in an OpenFortress application. It is a one-time code that can be used to reset the token password while it is being unlocked.

Read more

Order now
Relocation Service
Tokens contain contact information of their rightful owners. If such contact information changes, the token-stored information must also be changed. This is the reason why the Token Relocation Service exists.
Token relocation is usually done on a large batch of tokens. This reduces the cost per token. To relocate a token, information is sent to the old contact, so be sure to request this service before the relocation takes place!

Read more

Order now
Payment options
OpenFortress Token Services can be obtained for any single token that is programmed accordingly by OpenFortress or one of its partners. The token must not be wiped, nor must the token return service data be removed from the token.
The service is obtained by simply hanging a label onto the token. By attaching the label, you agree to the related costs and conditions of this service. One or a few labels are often provided with orders; additional labels can be ordered at cost price.
If you prefer, you can prepay for OpenFortress Token Service. This entitles you to a certain number of free incidents per year. You will only pay the annual service bill and not any per-incident bill if you stay under the prepaid amount.

Read more on the ordering page
Details

Website to which honest token finders are directed (they enter a serial number from the label to verify if they are entitled to a reward)

Honest finder reward request form and the Dutch version. (sent along with the token return)